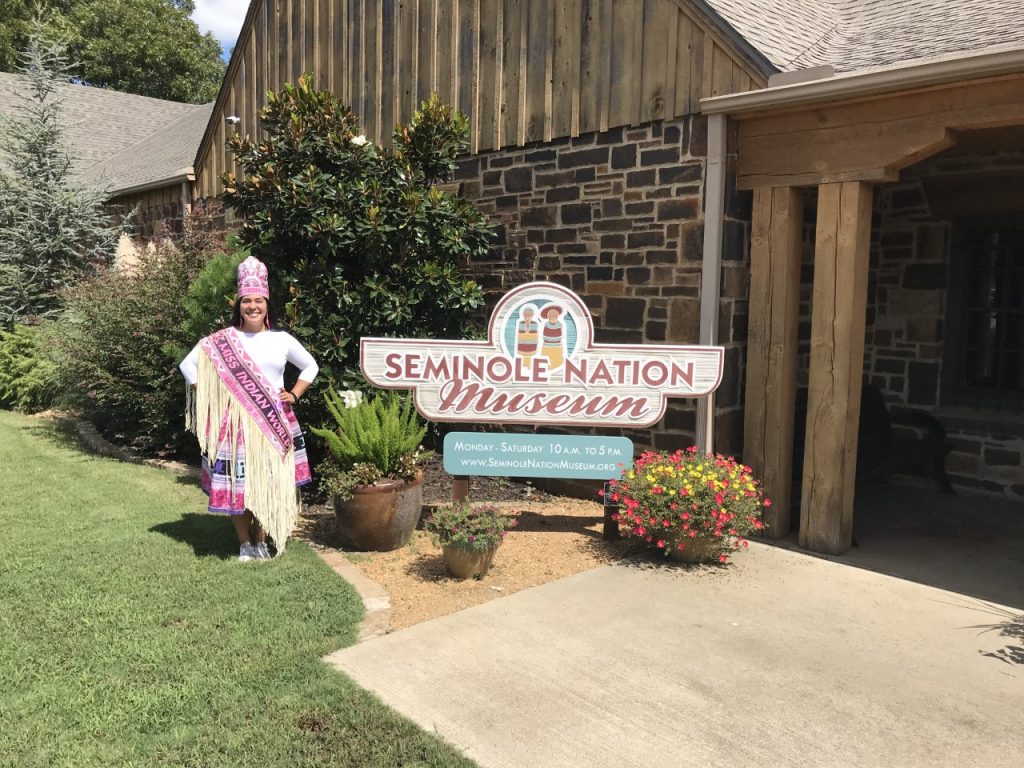 I spoke at the princess pageant, the traditional dress contest, and at Seminole State College. When visiting our relatives and friends in Oklahoma, I always share the importance of having intertribal friendships with one another and keeping that connection, even from 1300 miles away. I also shared my journey of growth with my education and my own confidence.
I was incredibly happy to be returning to the Seminole Nation of Oklahoma! I attended last year as Miss FL Seminole, and being there feels like being at my home away from home. My family and I have many dear friends there and were excited to see everyone again. My father and I spent our Thursday morning eating at the local donut shop in Seminole (sooooo good) and headed to visit the Seminole Nation Museum in Wewoka. We had heard one of their galleries was new and wanted to see the new artwork. Later that night, I watched one of my best friends and lil sisters, Marissa, and her reigning partner, Malena, proudly pass their crowns on. It was emotional to watch because I had watched them receive their titles a year ago. We have watched one another grow through our reigns and make our communities proud over this past year. I'm so proud of both of them and know that this is not an ending to a reign, but another beginning to their next journeys. I love you both so much! Shoutout to Marissa and Malena, your billboard was awesome! After crying our happy tears, we celebrated the newly crowned Miss, Jr. Miss, and Lil Miss Seminole Nation Princesses. It was a happy moment to be apart of with my friends.
On Friday, we visited the Seminole State College where I was a guest speaker. I met with students and faculty members. Mvto/Shonaabesha to NASNTI for organizing this wonderful event and allowing me to share my journey with education and why it is important for our Native youth to be obtaining degrees and finding their paths to success. Mvto/Shonaabesha to the student members of NASA! You guys are awesome and unstoppable. After having a great event with Seminole State College, we headed across town to have an interview with our good family friend, Bo Whitekiller of the Seminole Nation. We spoke of the importance of mental health and taking care of our minds, bodies, and spirits. I appreciate the opportunity to share and exchange. Later in the evening, my father and I were asked to judge the traditional dress contest. It was so hard!! But we enjoyed it. We finished out our night sharing laughs, catching up, and stomp dancing. A very big MVTO to my friends from the Seminole Nation of Oklahoma, my father and I love visiting you all. We hope to see you soon.
I always speak of how important it is to make connections everywhere I go, but returning somewhere I've been before, where I have great friends and am always welcomed with open arms, really made me appreciate that friendship that was made only two years ago. I've watched how a simple conversions made among a group of Seminole girls turned into such a beautiful thing. Friendship is beautiful. Community is beautiful.