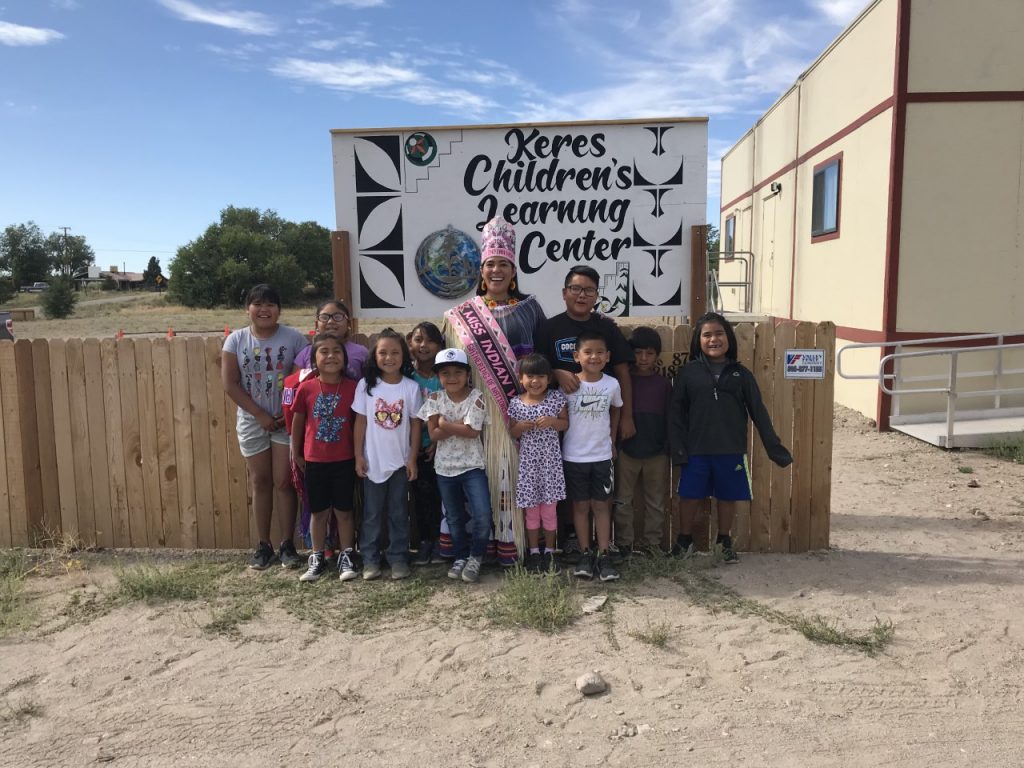 Events: Indian Pueblo Cultural Center Gala, Jemez Pueblo, Singing Wire radio interview, Keres Children's Learning Center, Native American Community Academy, Santa Fe Indian School, Native Music Hours radio interview, Native America Calling's: Native in The Spotlight radio interview, and filming for GON commercials
Locations: Albuquerque, Santa Fe, Jemez Pueblo and Cochiti Pueblo, New Mexico
I was happy to share my journey with my own mental health and education path. I spoke of my battle with depression, western medication, and how I had to overcome some of my mental health obstacles to find my own success.
It was so nice to be back in Albuquerque! I haven't breathed in that dry, cold air since April at Gathering lol! I was excited to be a guest at the 10th Annual Indian Pueblo Cultural Center Gala because it was my first ever gala! The event was so lovely, everyone was dressed up and the dinner was delicious. There was a fashion show by Native designer Michelle Tsosie Sisneros, with all Native models too! The clothing and models were beautiful! The gala helped to raise funds for the Indigenous Wisdom K-12 curriculum project that provides content in the classroom that incorporates thorough history and contributions made by the Pueblo people. I really enjoyed the evening in my new shiny skirt, dancing, laughing and meeting the many locals and officials of New Mexico.
On Sunday I had the privilege of visiting the Jemez Pueblo with someone I look up to greatly and is such an inspiration to so many youth across Indian Country, Juanita Toledo! She showed me the Red Rocks (they're really red!) and also had the opportunity to meet with community members, the Governor, Lt. Governor, and other community leaders. The Jemez Pueblo is such a beautiful and welcoming community, I'm very grateful for the chance to visit and exchange with one another. I learned a lot and hope to be back on November 12 for feast! Shonaabesha/Mvto/Thank you to the Jemez Pueblo community and officials for their hospitality and laughs. Later that day I did a live interview on Singing Wire radio with Ron Bryan. It was interesting to be on a radio station that features just Native music because we do not have anything like that back home. Ron is awesome and if you get the chance, tune into his show! I finished a great day with a great evening, enjoying a BBQ with all the people who help to make GON and MIW what it is. Thanks for my cake with my face on it and lighting my mouth on fire with that green pepper stew lol!
Monday was a super busy day, but it was great! We started off at the Keres Children's Learning Center on the Cochiti Pueblo. The kids melted my heart, they all took turns introducing themselves in their language, showed off their counting, and asked hilarious questions (if we ate sharks, if I traveled with BTS, and if my chaperones were my bodyguards hahah.) I was so proud to see such young children speaking so fluently, it reassures me that our hopes and prayers for cultural preservation are being heard and is happening. Next we visited NACA's main campus and the new high school. I was so impressed at the way culture and curriculum was just one element, intertwined. It is empowering to witness the great work that is being done by this institution. Great job to all the staff and students at NACA! Last we drove to Santa Fe to join the students at SFIS. I want to thank you all for such a great visit and laughing at my jokes. I was happy to share my short 23-year life story and I hope that you all find your success! I left your campus feeling incredibly happy and proud. I send many blessings to all the students I met on my visits, you are all destined for incredible paths. My Monday came to an end after my awesome interview with Beulah Sunrise on Native Music Hours radio show. Check her out too! Her show is featured on KANW on Mondays! We probably laughed more than talked, but that is what happens when anyone gets around B lol.
On my final day in Albuquerque, I was featured on Native America Calling as the September Native in The Spotlight. Shonaabesha/Mvto/Thank you to Tara Gatewood for interviewing me and the whole team at Studio 49! I appreciate the work you do. My final duty was to film the new GON powwow commercial! It was a little more exciting than usual because I got to do one in Spanish! Yes, I am Seminole born and raised in the Florida swamps, but my mother was actually born in raised in the deserts of Chile, South America. I grew up with Spanish Wednesdays and Cumbia music (jajaja). I'm proud of both my sides and although I am not fluent in either of my other tongues, I continue learning and practicing. I loved loved loved my visit in New Mexico and always leave the land of enchantment feeling full in my heart. Thanks to my amazing committee and to all my new and old friends I've seen on this trip, I'll be back soon!
I gained much insight into the many differences and similarities of our cultures, even though we are practically on opposite coasts of the U.S. At the foundation of all Native and Indigenous people culture is community and hospitality. I'm always grateful for the welcomings I receive when meeting and visiting new communities.