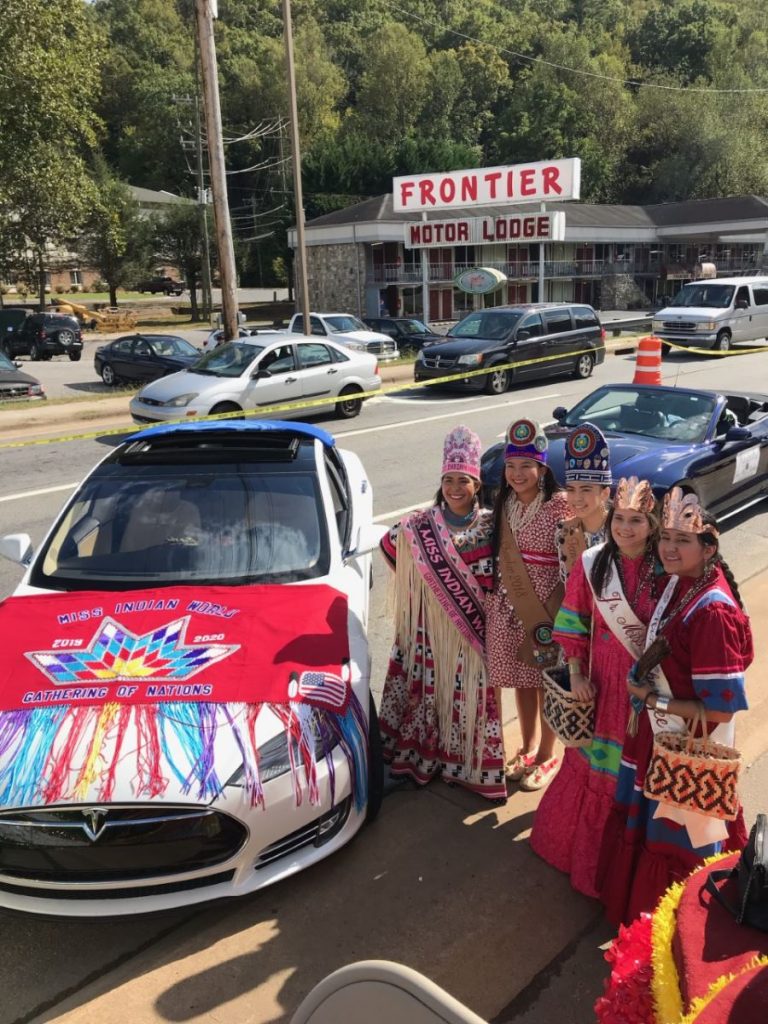 Cherokee, North Carolina
I attended the 107th Annual Cherokee Indian Fair as a judge the Miss Cherokee pageant and a apart of the parade!
I loved the mountains and cool weather when visiting Cherokee, North Carolina! We flew in Monday morning and drove through the mountains right to judging the interview portion of the pageant. It was different to be on another side of the pageant! Judging can be challenging, but I enjoyed it. There were three contestants competing for the title of Miss Cherokee. All three were well prepared and well spoken, which didn't make it any easier! I was judging alongside Bambi Jo Pelham, who is the current Sr. Queen of Queens and Frankie Roper, who holds the title as TIW Elegant Mrs. North Carolina! We definitely all brought different perspectives and experiences of pageantry. When we finished interviews, we all enjoyed a good dinner together at Brio. On Tuesday I was apart of the Cherokee Indian Fair Parade, I rode with other visiting royalties, floats, and contestants. Even though it rained, we shined! Later in the evening, we watched the Teen Miss Cherokee pageant and tried some bean bread! On Wednesday, we had a nice breakfast and caught up with my dear friend Karyl Frankiewicz, a former Miss Cherokee, former Miss Indian North Carolina AND former Miss Native American USA. It was so nice seeing her! Afterwards, she took us to visit the Museum of the Cherokee Indian and Ocunaluftee Indian Village. It was interesting to see how similar our history was, the Cherokee and Seminole are both apart of the Five Civilized Tribes. Both of our people were forced onto the Trail of Tears and as a result, our people have relocated populations in Indian territory Oklahoma. I especially loved seeing how similar our ceremonies were and even our dancing! Later we attended the Lil Miss Cherokee Pageant, the contestants were adorable and all did so well! On our last day visiting, Tia and I enjoyed a breakfast with some good friends, good food and even better company. We drove up into the smokies, ears popping and overlooking the view. It was beautiful, the air was the cleanest and crispest I probably ever breathed in my life! I prayed to the mountains and to the rivers and we ended our day watching some good ole Cherokee stickball. I appreciate the opportunity to visit the Eastern Band of Cherokee Indians and to see the beauty of the Smoky Mountains! 
I was pleased to see how similar our peoples' history was and even some of our traditional ways were. It reminds me that way back when before we were invaded and our people were forced onto the Trail of Tears, we probably had connected, exchanged, and shared with one another, we probably even stomp danced together a few times.  Shonaabesha/mvto/thank you to my friend Karyl for helping to organize this!!