Another Journey to Defeat Hep C
by Dr. Lita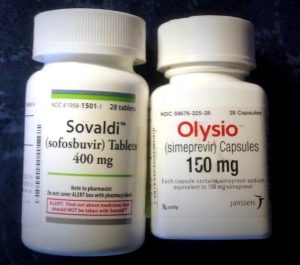 Preface to Dr. Lita's Journal during a 12 week treatment for Hep C.
This is the third time I have undergone treatment to fight the Hep C virus looming in my body. My experiences the first two times were not easy on me or my family. I was not prepared for a third time. After the liver transplant in May 2010 I felt that should have been the end of my need to continue anymore treatments dealing with my liver. However, that was not to be.
In my view the new and improved drugs were very much a mystery. Therefore, the fear of another treatment with possible complications immediately (in my mind), posed the fear and risk of dying during the 3rd Hep C' treatment.
Fear was the reason I started to write about the experience with the new medications. I wanted to record my journey for Derek just in case something went terribly wrong. I was very scared in the beginning.
Day 1 June 24 2014, Time: 8:am
Today is Tuesday June 24th. Much apprehension as I take the first dose of SOVALDI and OLYSIO. They tell me these new drugs will hopefully kill the Hep C running through my veins.
I say this; "I will survive". But I'm shaking, lol. With Derek and Melonie's strength I can do it, I know I can.
Lita_TREATMENT
Day 1—- 8:pm…Second dose of first day and I am still standing! I am feeling good.
Day 2—- 8:am
Woke up-walked my regular route outdoors of nearly 3 miles. Did my routine time on my glider and pulley. Tara, my message therapist came by to help me relax. She rids me of the stresses building on my neck and shoulders. I have told her how much I appreciate her "healing hands" many times.
Yes I need more water. Both Tara and Derek say I need more then my daily 33.8 FL OZ.
Before the liver transplant I drank very small amounts of water during a normal day. My liver suffered due to my neglect and ignorance about how critical H2O is to the body.
2nd dose down the shoot.. Hoot hoot……
Day 3—- 6/26/14
1st dose 8:am !!!!SOS Big mistake!
I have been taking my pills twice per day; 8am and 8pm. I totally messed up.
The prescribed dose is once per day. I feel so insensible. How stupid of me creating more drama for myself.
Derek is forever telling me that I must focus and pay attention to detail. I hope I learned a good lesson. This moment demonstrates how difficult it is for me to focus on myself. My stress levels over fear of the new drugs and other personal family related issues like aging and dying parents, have clouded my thinking and emotional state of mind. I need to listen and be better focused on this new treatment.
Day 4—- 8:20 am
Daily dose done & misery; itching is BAD, bad ,bad! Headache too. Pain forced me to take a Tylenol about 5pm, & trying calamine lotion to relieve the itch. I need sleep.
Hope for a better day tomorrow………………..
Day 5 —- 6/28 8:am
Sun is shining, I am up and functioning. Had a bad night the itching is fierce and doesn't let up. There is hope for a better day moving on.
Day 6—- 8:am
Had a pretty good day an active and typical Sunday. Less anxiety. Overall not to bad. As the itching moves through out my body I am very uncomfortable.
July 2nd—- Day 8
Last couple of days have been ok. Some itching but nothing like early on (double dose days). Today my mood and overall status is Blah. I used the toilet 3 times already its 1:30 in the afternoon…. Before starting the treatment, the Docs at Mayo Clinic alerted me to these dreadful side effects.
July 5th
I let the daily notes go for a few days, & not much to add. I am pretty stable and the itching seems to be the way it is however, I am dealing with this particular side effect as best I can. I stopped applying any and all topical creams, lotions, etc. to my skin, as the itching is internal. Other side effects are leg cramps fatigue on occasion have not stopped me from my daily exercise routine, office and other household chores. I take breaks when necessary and rest when I have done enough.
July 6th—- its noon
Another day so far so good, still waking up (lol). I have enough energy to get things done my ¼ cup of cereal with my meds allows me time to fix a more healthy breakfast between 9:30 – 10am.
I discovered real fast how important it is to take my meds with food at 8:am. If I hold out for more then an hour I start to feel anxious, shaky and can't concentrate too well. I discovered a granola bar is the perfect light snack when I take my meds (Derek's suggestion).
July 7th—- 11:45am
Today is day 14 of the treatment! And I am still ALIVE!!!
No matter how I try to justify the fact that the MEDS: SOVALDI & OLYSIO are going to rid me of Hep C, in reality they are still in the experimental stage. Much is still an unknown factor. Yes, everyone is different yet the reality for every person on this medication is; we are all lab rats…
I wake up in the night; 1,2,3,4 times with that eternal itching trying to scrape away something so deep in my skin, but nothing helps. The itching goes on running, through my veins. Hopefully doing the job which is to kill Hep C, my enemy of 30 plus years.
On a brighter note; I started packing for the weekend first Powwow coming up. I have a big smile on my face as I pull out my yellow beaded buckskin dress; California here I come! I am ready to dance!
July 11th—- Day 18
LitaPhotoshoot_Marie ClaireMagazine1999WOW! I am on week #3 and doing good. Itching still going on. I have scratched from head to toe some & areas worse then others.
Stomach is red (from scratching). Red marks on my cheek and my arm is inflamed and taking a beating due to my everlasting itch. For the most part my energy levels are ok. Late afternoon fatigue sets in. Nights are long due to the frequent bathroom visits, 4 after midnight.
Its Powwow time it's a good thing hopefully my buckskin dresses doesn't create more itching. I will think positive and hope for the best. Another day closer to the finish line…
July 12—- Day 18
Yesterday for the most part was a good day. The powwow grounds at Pechanga are excellent. The grass is beyond all dancers expectations. It is the greenest, most beautiful grass carpet any dancer or spectator could ask for. Dancing in the hot sun this afternoon, not so bad.
Later on in the evening my head started to hurt got worse by the time my contest rolled around. Head pounding & quizy tummy but, I held in there as I started my contest dance shaking, sweating and scared. But I managed to get through it!!
As I changed out of my outfit, my stomach was a mess. I vomited four times as I stood behind our truck before heading back to the hotel where I got sick one more time. I crawled into bed with an ice pack and thankfully fell asleep.
Next morning woke up at 7am feeling weird. As I blew up the toilet! Oh no! ugh! I feel refreshed now and ready to face the second day at the powwow.
July 14—- Day 20th
Recovery day…Have not kept up with the journal Saturday & Sunday powwow days. Notes on hold…
Saturday afternoon was a long and uneventful afternoon the heat was bad and getting worse. No contest for my group today. Hung at the powwow until the intensity of the sun sent me back to our hotel room to recover and get ready for the Pechanga Feast. All dancers, singers, and their families are guests of the Tribe. We are served a fine dinner. The Pechanga Tribe is more then generous and enjoy sharing with others. This is "the land of plenty".
We headed back to the powwow on the shuttle and waited in long lines with visitors attending the annual Fireworks display, which is held at the powwow grounds. Hundreds of tourists and community members invade the dance arena to see the 25 minute firework display.
Sunday- The weather predicted to get hotter. It reached 109 degrees. My issues with itching and headache started right away. I dressed in my buckskin, just in case of a tie. Underneath the buckskin dress my stomach was on fire! I was experiencing strange heat rising across my upper tummy. I asked Melonie to get me a chilled bottle of water to place on my belly for some relief. I sat in my powwow chair the majority of the afternoon, under a white canopy burning my face and the top of my head. To make matters worse I applied last years lip-balm and it burned my lips so badly the top layer of skin pealed off and exposed raw painful, purple, lips.
As I sat in that intense heat my fear of sun cancer rose beyond reason. I was warned that this new medication/treatment would make my skin extremely sensitive to the sun. I was stressed beyond my limits and decided there was no reason to suffer any longer. So I reached out to the arena director and asked if there were any ties in my contest. As soon as I got the word "no ties," I changed my clothes before going back to sit at my chair. It's still a super hot day as the give-a-ways drag on through out the day.
Wow finely time to call out the winners: first name called, Dr. Lita Mathews, 3rd place for Senior Women's Buckskin Traditional.. I placed all considered I did OK!
Monday @ Mayo Clinic—- July 30th
Early rise we are off to Scottsdale for the blood draw @7:30am infusion for osteoporosis @10am. All is going good, timely appointments. I appreciate the efficiency and all aspects of the Mayo Clinic. The appointment to the Phoenix Campus has been canceled.
All is good according to the blood tests and positive feedback from docs. I sent JR. (my Indian doctor) the following note from my cell phone to let him know how things are progressing: "Hello, really good news from Mayo my #s are down 3-fold…The viral count for Hep C is at 19! Came down from 300,000. It's the best feeling ever. Plus I got 3rd place at Pechanga." YES! A high 5 for Dr. Lita.
Word from the Docs is: No change in medication and with the treatment proceed as usual. Keep up the good work. These were the words from Hep C nurses Julie and Sandy.
Jr said I must give thanks and have a "Wapello" to let the Spirits know I am thankful. Jr. has been my spiritual advisor throughout all of my ordeal dating back before my liver transplant 4 years ago. The 'Wapello' ceremony, will take place in the fall when I am done with the treatment.
Day 24—- July
I feel so relived that the new treatment is working and I'm into week #4. Even the itching has subsided still some fatigue but nothing I can't handle.
Week 5—- Day 28, Monday
Treatment is moving right along almost to mid-point. For the most part I am feeling normal. I have occasional itching but that is pretty much over,(till the next Time!).
REFLECTIONS:
The fact that the treatment started earlier then I was prepared for immediately threw me of focus. I thought I would begin the treatment after the summer powwow season, not during. My first few journal entries tell that drama. This past weekend was suppose to be another long powwow in Dulce, a remote place in NM. There are no hotels available so Derek decided to rent an RV for the three of us; the idea of another powwow didn't sit well with Melonie or myself. But Derek had already made up his mind, moved ahead and rented it. We went to pick up the RV together but it wasn't quite ready. We waited as the two guys working on it mostly looked around the used up RV looking buffaloed. I gave up and headed home. Derek drove home an hour later. According to him the RV puttered and coughed all the way home and got worse. As for the picky women who were to inhabit what has become a real health problem and potentially a none running vehicle, the RV did not appear safe to drive or live in. It smokes, chocks, stinks and to top it off Melonie swears she saw bed bugs on the mattress! Trip canceled! Unanimous decision.
July 30th (mind games)
When the first delivery of the Hep C medication arrived, I thought of the pills as poison. It took me weeks to realize the negativity and connotation of that thought was very damaging to me emotionally. It was not a good way to began the treatment. The new and improved medication is intended to kill the virus in my blood. If it works it will save my new liver from further damage so I can live the remainder of my life
without hepatitis C.
A revealing thought, New meds not poison. Rather, life saving drugs.
Day 31—- Week 5
For the most part I have been doing pretty good. A couple of issues to mention: Two days ago I experienced a strange long rumbling in my stomach it was weird. It seemed to move throughout my intestine, it happened 3 times one right after the other. Yesterday the itching was back with a vengeance. I had to take a child's dose of liquid benadryl. I slept for about 3 hrs. Woke up throughout the night and used the bathroom 5 times. Less itching.
Got up at sunrise did my usual workout; 3mile walk, 15 minutes on upper arm pulls, 35 minutes of yoga on my wii board. I am determined to be in dancing shape for the next powwow!!
Week 6
It has been one busy week and its only Wednesday. Another trip to the hottest place in my world Phoenix, AZ. Its time for the 6 week consultation with the Hep C specialist: Dr. Amy @ Mayo Clinic, and looking forward to hearing good news.
All is going great as far as my exam goes. We are waiting to hear what my viral count is at this point in the treatment. I woke up this morning believing that I am already Hep C free. It will be a couple of days before the vital count is confirmed.
I feel so happy and hopeful that the rest of my life will be hep c free as long as I keep on doing the right things for myself. Its all up to Me. Derek will make sure I do.
Days later, CONFIRMATION: Completed the first half of the treatment and officially Hep C Free!!!!!!!!!!
First thing I have to keep in mind is the fact that I have been through two treatments for Hep C. In both cases it was non detectable as long as I remained on the drugs. However, the Hep C came back after a few weeks of stopping the treatment.
This medication is completely different and only attacks the virus, not the rest of my body. I have to believe this time around will be a different outcome and these "life saving drugs" are going to be 100% effective meaning no more Hep C for the rest of my life. I can see and feel a change in myself. For example my color is back. I don't look as pale and my energy level is great. I am able to keep working out everyday; walk, glider, yoga, my regular daily routine at home. Weekends we ride our bikes in the early morning. Consistency is critical to maintaining my weight and stress levels. Last Mayo visit my vital signs were excellent! For the most part everyday is a good day.
We are preparing to leave home for 17 days. Heading out on the powwow trail. The plan is to attend 2 powwows. First weekend will be in Fort Hall Idaho followed by Shakopee in MN. After all that we will head to Chicago, checking in on Derek's dad.
Week 7—- August 6
DRLITAMATHEWS_DC POWWOW 0805Arrived in Fort Hall Idaho; Wow I am over the ½ way point of the treatment! Only 5 weeks left and I will be done. That feels really good.. Through out this journal I have noted symptoms/side effects that have occurred at various times through out the treatment. Since the treatment started I have broken out with sores inside my mouth. They come and go. My dental hygiene is excellent and not a factor. I had another headache, probably due to the overgrown grasses at the powwow grounds. My eyes itch, water, and burn.. Took Tylenol. Used an ice pack and a night shade to get some relief. Hope to feel better by morning.
Allergies and serious sinus infections have been a real problem for me lately. Powwows are generally outside all summer and the variety of grasses and other plant life have never been a problem for me in the past. Must be the treatment.
Saturday August 9th – Morning in Fort Hall Hotel and Casino.
It's a good day, some gray skies more rain in the forecast. Last night at Grand Entry the rain poured down on dancers and everyone in the arena. The rain lasted for at least an hour. Thunder and lightening was vicious. Everyone was trying to huddle under the metal arbor, the women including Melonie and myself, were all trying to protect the Buckskin dresses and all the guys feathers were going limp, as we all got drenched. Eventually, the powwow resumed and went on as planned. The rain slowed down but kept on dripping.
Monday—- August 11th
Recovery day, and after 3 days of contest powwow and no notes written during powwow.
Sunday our last dance. It was a hot and humid day. I danced in my yellow buckskin, Golden age (my category) was suppose to contest early afternoon and the plan was to change ASAP. Didn't happen. Powwow was swamped with specials. Contest started late. Dancers sat around in the hot sun all day roasting.
After much stress, over heating and waiting my group was called to dance. Our contest song came from Stoney Park, a favorite drum of mine from Canada. I felt good and my dance was too. While lining up for the contest judges I was feeling quite odd; while shaking hands with the contestants I got dizzy and almost collapsed. Another dancer, Vergie Tsosie helped me to my chair where Derek and Melonie were waiting for me. They looked concerned. We all sat around for hours before the winners were finely announced around midnight. Anyway, 2 goose eggs… meaning neither one of us heard our names called out as winners.
Bummer… especially when I felt that my dancing was the best in a long time. Oh well I know it was a great dance. Derek was happy with both of us. He told us we did good. That counts!
Yellowstone here we come…But, not so fast. We spent the entire day at the Chevy dealer in Pocatello as the fuel pump on our truck, a 1998 Silverado, had to be replaced. Big unexpected expense and it took all day for the repair.
Finally on our way to Yellowstone at 6:pm.
My family and I have been to Yellowstone National Park many times. It's a special place. I love, enjoy, and more importantly appreciate all the Park has to offer. At this moment I thank the creator for this place and Derek for bringing me back for another visit this summer. We have often talked about how wonderful it would be to visit the park during the winter when the parks in it's winter majesty, and is displayed on an even grander scale.
August 14—- Week 8
Time is moving fast and I am closer to the end of the treatment as everyday that goes by. There are so many thoughts going on in my head in relation to the meds. On the start of the 7th week I was asking myself where and what are the drugs working on now? The Hep C is already non-detectable. I can't help but recall the last time I was on my 7th week of treatment #2, and the side effects nearly killed me. Not a good thought.
Melonie said it would take the next 7 weeks for the drugs to destroy the virus in my entire body. Right now I am experiencing more headaches, upset stomach, and fatigue. The sun is hotter more intense on my skin. Eating has not been a problem. However, there are times when I seem to fill up with small amounts of food. I sometimes feel bad cause I leave so much food on my plate: On Tuesday, we had dinner at a very fine restaurant in Yellowstone. I ordered lentil soup. It was especially spicy and way to salty I couldn't eat. Derek and Melonie insisted I order something else, they ordered the buffalo dinner plate for me. I didn't eat any of it, I got emotional at the table my eyes filled with tears. Before leaving I bought a cup of yogurt hoping it would calm my stomach. Derek gobbled up the buffalo.
After leaving Yellowstone spent the night in South Dakota. At 1:30am, I woke up with my stomach burning and acid reflux was fierce. I chewed on a couple of Tums and sat on the pot for about 15 minutes. No one heard me. The next morning I woke up with another headache, nose dripping, and can't stop sneezing. Another Tylenol for me.
August 18th—- Monday
Busy week …haven't kept up with my notes for one reason or another. Arrived at our destination on Thursday, Prior Lake Minnesota. Shakopee powwow started on Friday. Lots of dancers arrived on the scene. The hotel and casino were buzzing with people. Not long before we noticed surveillance cameras and tight security. It feels very different from previous visits. Wondering why things seem so unfriendly and threatening.
Everyone is talking. The weather is gloomy, with gray skies and lots of heavy rain clouds. Its gonna rain. Derek placed our chairs opposite from where we usually sit, trying to avoid as much sun as possible due to my super sensitive skin. First contest on Friday night went ok. Not my best dancing but got through it.
Saturday started out gloomy and by Grand Entry it was humid and miserable. After a few powwow formalities all adults were excused for the afternoon…so grateful.. Saturday night's contest dance was much improved. Derek said I danced well. He was pleased. Hope the judges saw it the same way. One more day…
Sunday the sun didn't shine and the humidity was the worst. My group danced one more contest song. Wow, I did so good. My energy was right on!
The rain started shortly after my contest. Everyone ran for cover. It rained so hard the arena was immediately inches deep in water. Eventually the powwow committee decided to forgo all adult contests and go with existing points to determine the winners.
Everyone got soggy wet. Melonie's buckskin dress got the worst of it. Her escape to the nearest bleachers didn't help. The rain was so intense and none of us escaped getting wet. When the winners were called the names didn't change from last year. Or the year before that. Typical outcome here as the same dancers win year after year. Oh well I know I danced good. And so did Melonie. There is some consolation in that!
Monday's drive to Chicago is ahead. Derek's dad situation is a whole other story yet to unravel. For now its dinner and prepare for tomorrows drive.
August 19th —- Week 9, Tuesday
As far as I can tell all is well with me and no side effects. Our day was stressful for other reasons today. We had some serious issues to address concerning Derek's father and his at home care takers. Dad is 91 years old, his health has continued to deteriorate since his wife of 64 years passed away five months ago. Due to his growing health problems and other issues requiring big changes, his doctors said he may need to be moved to a nursing home where his growing medical needs will be better addressed. Since the passing of Derek's mother back in March 2014, dad has been cared for by two health providers which also cared for Mom until she passed. The facility we visited was a fine place and the elderly people living there seemed to be well cared for. The folks we met were helpful and provided all the information needed to make some decisions. However, at this point in time we are not ready for dad to leave his home. Derek is struggling and is very much against placing his father in a strange place. Before going to sleep he told me it had been the worst day of his life. Dad will not be living in a nursing home, not now.
I suggested we have a heart to heart talk with dad and his caretakers. Dad still comprehends what is going on in spite of dementia, limited vision, very limited mobility, and his feeding tube. During our talk he told us he does not want to leave his home. He promised to cooperate and do as he is told (as best he can). So for now things will remain the same. We will be on our way home Friday. We are all feeling better then when we arrived.
August 27th—- Week 10
WOW I just counted my pills and there are just 11 left! I will be done with the medication and believe I am HepC Cured for the rest of my life. I have not written in my journal for over a week; due to the visit in Chicago, and basically there has not been anything going on with the treatment. I have pretty much settled down on a routine and deal with the few side effects as they come up. There have been more frequent headaches in the past 2 weeks. I take Tylenol if I absolutely have to, and lay down with an ice pack if necessary. I have been doing better with the itching. It does rise up in the evening especially on my feet. So weird. I am coping real good with just knowing I am so close to the end of my 12 week treatment. An awesome feeling!
My dancing has been going good. Derek shot a short video for me to check out. I looked good. It showed that I am stronger than I have been since the transplant. I am happy, happy, happy.
September 1st—- Week 11
Looks like 9/13/14 will be the last day of the meds and can't wait. Its' almost over and I couldn't be happier or more confident that the Hep C is gone from my body forever. In the past few days I have experienced a lack of energy and fatigue at the end of my day. I do bounce back keeping up with my morning exercise routine on a daily basis. We are getting ready for the trip to San Diego leaving on Thursday. Powwow starts on Friday. So its time to pack the truck one more time. But before we leave I decide to make new curtains for the camper shell on our truck. I have not taken out my sewing machine in years! Hope I remember how to thread the thing!
September 7th—- Week 12
Today is the last week of my 12 week treatment! A real milestone and a truly memorable point, leading towards the end of taking the drugs SOVALDI and OLYSIO.
My journal entries stopped for the last 10 days. There are reasons behind me not keeping up with daily accounts. First and foremost I have reached a place in the treatment where there are no more surprises. What has changed is, I am no longer expecting the unexpected! When issues come up dealing with everyday life and side effects, most of the time, all I have to do is slowdown. For me this is not an easy thing to do. I have always believed in keeping busy and staying active. My lifestyle has incorporated movement in a variety of ways. I have recorded my early morning routine many times during this period of time, and it doesn't stop there. The rest of my day is filled with lots of stuff to do in relation to GON as well as my household. I am a cleaning fanatic according to Derek and Melonie.
This past week was one of those unplanned series of health related issues. Fatigue was at its worst it took me down at mid- week we had to decide if our plans to dance at Sycuan Powwow are on or off. I have been looking forward to the next powwow for the past 2 weeks. Seriously preparing for the competition and feeling confident about my dance. All the excitement must have drained my energy I've been struggling just getting through our daily morning 3 mile walk and the rest of my routine. Sycuan Powwow canceled.
Friday, Saturday, and Sunday have been restful. I have watched both Derek and myself relax for the first time all summer. With so many things going on, eventually it takes its toll. After all the resting I should be ready for the weekend ahead.
My last and final week of treatment. I have been counting the number of pills left in the 2 bottles as if they might multiply!! LOL.
After experiencing fatigue my stamina and energy took a while to return. Although, my daily routine never stopped. A little slower perhaps, but everyday has been better then the last. One thing I know for sure no matter how low my energy gets I have to push myself in order to get stronger. I remember after the transplant I began walking the day after surgery! I have always been very active throughout my life. I recognize how critical daily exercise and a healthy diet is in order to maintain a fit body.
The week is moving by fast. Tuesday was the last of the blood testing during the treatment. Since the beginning of the treatment I have been getting blood tests every 2 weeks. I will continue my monthly blood tests to check liver functions for the rest of my life.
The call from Mayo was positive. All is well. I am to continue meds as usual. I was also reminded that my appointment with the hematologist is at the end of September. That works out good, and we will be on our way to California and Morongo powwow. Sounds good to me.This is a fast moving week besides the fatigue my stomach has been quizzy, headaches on and off pretty typical.
This is the last day of Olysio and Sovaldi!!!!!!!!!! Derek wanted to stand next to me when I took the last 2 pills. Both of us grateful the treatment has gone so well. I'm still standing strong. We toasted the occasion with our morning cups of coffee.
I don't really know what the next few weeks will bring; as that is yet to be determined. I will be celebrating regardless. To celebrate Melonie, Derek and I drove to Espanola, we had a lovely lunch with my Mom and my oldest sister Lulu.
A special day indeed.
The next day Derek gently reminded me we needed to be aware of the last time I was on the Hep C treatment and things that went terribly bad when the treatment was stopped. The side effects caused much havoc on my body. I landed up in the hospital bleeding from my nose, ears. and eyes. It was the most frightening time in my life.
Needless to say at this point I don't want to think about anything like that happening. I have been on a natural high since I swallowed the last pills. Now the fear of something going wrong is not fair. I refuse to let that fear rise again. I will survive!!! I see my Doctor at the Mayo Clinic September 24th.
Until then I will think good thoughts.
October 7, 2014
My Hep C Treatment ended on 9/13/14 three weeks ago. I will be going in to TriCore Reference Lab on Friday for blood work and continue to be tested for the Hep C virus for the next 6 months.
My experience with the treatment for the past 15 weeks has been frightening, stressful, and a test of faith to the power of prayer and spirituality.
I began writing short notes in a small spiral notebook old style! Towards the end of the treatment I began to transfer my hand written notes to my computer. It gave me the opportunity to relive the weeks during the Hep C treatment. As I read my reactions to the situations, I was living day in and day out. I started to feel sad and a little depressed. That happened weeks after the treatment ended. I have had much to think about since that time. '
It has been three weeks since I stopped writing and I am happy to say I am doing exceptionally well! My follow up visit to the Mayo Clinic was on September 26th. It began with a series of blood tests and consultation with the hematologist in charge of my treatment. We were elated to hear that the results were all good, with no sign of the Hep C virus at this point in time. The doctor went on to tell me to continue the blood work for the next six months. She also reminded us that the treatment I had undergone was only 85% effective on most patients. The other 15% may have to go through some other form of treatment. That won't be me!!
When Derek and I returned back home to Albuquerque, it was late afternoon on Thursday. I decided we needed to go see Jr.
Albino Garcia (Jr.) a spiritual leader for the community. He has a sweat lodge at his home in the south valley. During certain parts of the year he opens his sweats up to anyone who wants to attend. We have been participating in his sweats for the past 4-5 years. It is our way of acknowledging our gratitude to all those who have kept me in prayer. The spirits come there to doctor, give hope, and direction to all who need and believe. The sweat for me is where I get the strength needed to continue on. I used this Journal as a way to release and record my fears throughout the 12 weeks of treatment. Writing down my fears helped me to cope with the situation. However, at this point in time I had to transfer my words to my computer and had to re-live the past 12 weeks one more time. Once I completed transferring the 17 page journal I became my own critic. I felt small and thought all I had done was complained about the headaches, itching, fatigue and all the rest of the side effects brought on by the treatment. It all sounded trivial at this point. For days I didn't allow myself to discuss my feelings with anyone not even Derek.
One Sunday morning Derek and I were standing outside enjoying our "enchanted garden" surrounded by our magnificent pinion trees and the over abundance of plants and flowers throughout our home. All of a sudden I got all chocked up and my eyes began to tear. Derek asked me what was wrong. I broke down telling him how I felt as I read through my journal. My fear of the treatment had caused all sorts of issues in my head. I was a mess. Derek told me how wrong I was. He said my fear had not stopped me from following through with the treatment. He described me as being 'courageous'. Because I had not allowed my fear to stop me from doing what needed to be done. How wonderful and insightful my Derek is. Yes, I have to admit it took great courage to follow through with his help and with my own determination I did that. Now we just have to continue to believe that I am indeed Hep C free for the rest of my life.