Travel, Accommodations & Camping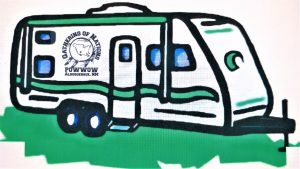 RV & Camper Camping Available on the Powwow Grounds at Expo NM
Reservations for Camping available November 1, 2023.
RV & Camper Camping is available on the Powwow Grounds at Expo NM.  TENT CAMPING is NOT available or permitted by Expo NM.  Campsites are available with and without hook-ups.  Dry camping will be without hook-ups.  There are restrooms with showers available on the premises.  *Please note, all camping vehicles must be equiped for camping (i.e. RV's, Camping Trailers), vehicles such as cars, mini-vans, regular vans or other non-camping vehicles will not be accepted or allowed to camp on the grounds.  If you have a question as to whwther your vehicle qualifies, please email us at info@gonltd.org.
Camping Reservations MUST be made in advance and can only be made with the purchase of (any kind) of Event Admission Ticket. Camping is for attendees of the Gathering of Nations Powwow.
CAMPING PACKAGES AVAILABLE FOR 2024:
Reservations will begin November 1st.
Dry camping (No Hook-Ups):
3-Nights Thursday, Friday & Saturday, April 25, 26, 27, 2024 
Camp Sites w/Hook Up and Shared Hook Up:
3-Night Thursday, Friday & Saturday, April 25, 26 & 27, 2024
*Hook-up spaces will consist of at least electrical & water.  If needed a dump stationis available. Some spaces will have to share the hook-up which will require a longer electrical cord and water hose.
*All campers subject to rules and regulations of Expo NM. More information will be available November 1, 2023.
American Airlines – Official Airline for the Gathering of Nations Powwow – Book your discounted flights to ABQ
To book your flight on American Airlines coming to the Gathering of Nations with discounted airfare; Offer valid on travel between April 24, 2023 – May 3, 2023 Anywhere to/from Albuquerque, New Mexico.
Option 1: Call 1-800-433-1790 & provide the Authorization #A5843EF 
Option 2: Book online www.aa.com & use Authorization # 5843EF
*Additional flight information, conditions, rules and agreements subject to American Airlines.