MIW 2019-21 Cheyenne Kippenberger
Announcement: Miss Indian World Cheyenne Kippenberger will remain title holder
Due to unprecedented circumstances, the Gathering of Nations Miss Indian World Program has extended the 36th Miss Indian World – Cheyenne Kippenberger's reign and she has humbly accepted. Thank you to Cheyenne, her family and her Tribe. Her reign will carry on through until April 24, 2021. "I feel it is my obligation to Indian Country to continue serving as an ambassador for our people during these uncertain times and I will continue to serve and represent our people to the best of my abilities." Additional thank you's and appreciation, to the many organizations, for the invitations, opportunities and hosting Miss Indian World thus far.
From Miss Indian World Cheyenne Kippenberger, the Gathering of Nations and the Miss Indian Program: We are keeping you all in prayers for wellness and encourage all to take necessary precautions.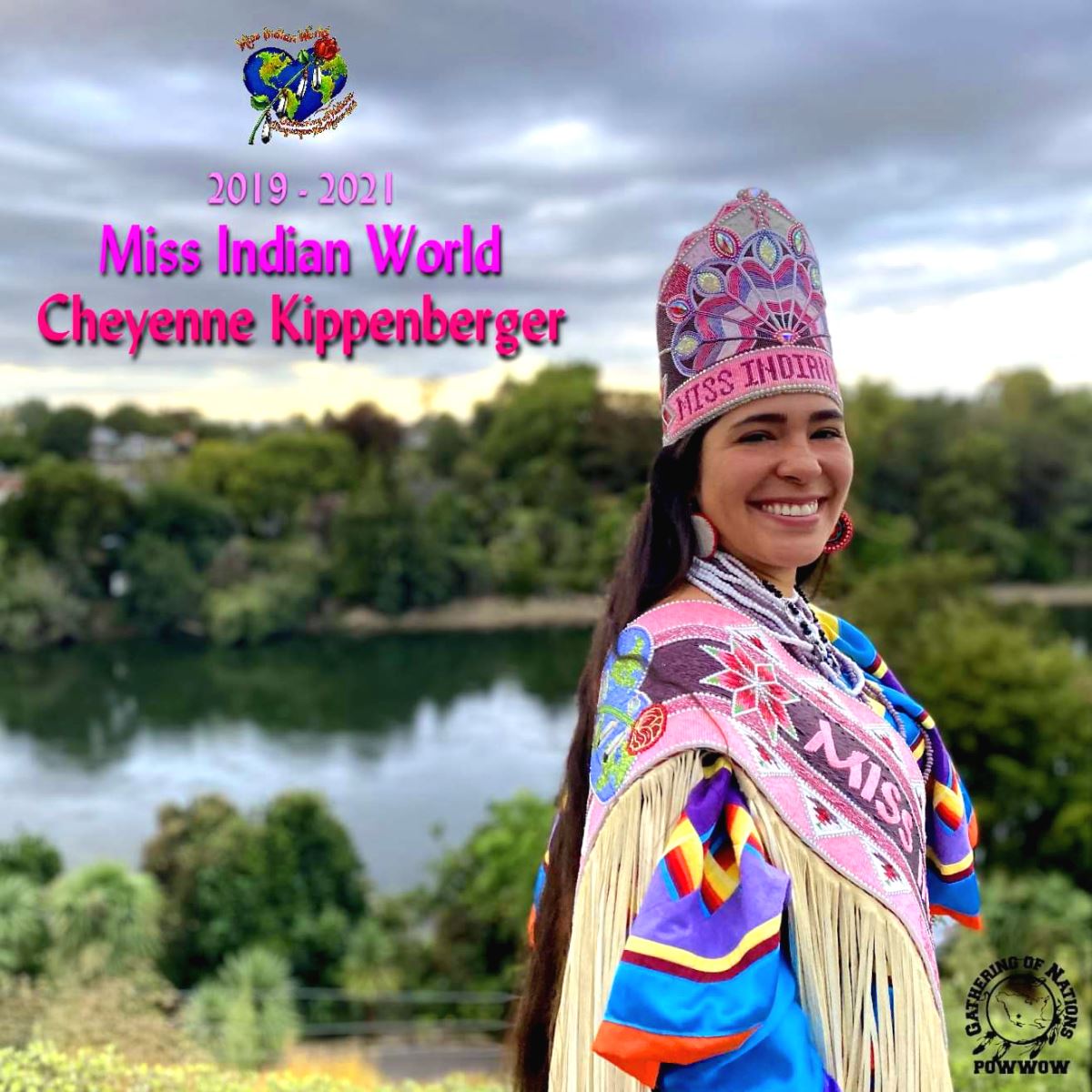 Cheyenne Eete Susan Kippenberger, 23, is a member of the Seminole Tribe of Florida and her hometown is the Hollywood Reservation in Hollywood, Florida. She is the daughter of Joe and Susan Kippenberger, the Granddaughter of Lawanna Osceola and her family is of the Panther Clan. Her Indian name "Eete" was bestowed upon her by her Grandma Lawanna. Community oriented Cheyenne looks for ways to support her community as well as sustain Seminole culture. She is the proud Chairwoman of "Healing The Circle in Our Tribal Communities Symposium" of the Native Learning Center organization and she likes to uphold Tribal teachings by practicing her skills at sewing traditional patchwork and participating in language classes with an elder from her reservation. With her free time, she tries her hand at crafting palmetto dolls and beading on a loom. Cheyenne stays healthy physically and mentally through running, yoga, and reading. Having been strongly inspired by Congresswomen Sharice Davids and Deb Halaand, Cheyenne, who earned an Associate Degree in Accounting from Keiser University, will continue her education by pursuing an additional degree in Political Science. Additionally, she is a former Miss Florida Seminole and uniquely, the first Seminole woman to hold the prestigious title of Miss Indian World in the program's 36-year history. As your 2019-2020 Miss Indian World, Cheyenne will strive to bring awareness to the strength and resilience of Native American and Indigenous Peoples, help to destigmatize mental health and put forth efforts in gaining quality representation in the media for Native American & Indigenous people globally.
Ah-Tah-Thi-Ki Museum on the Big Cypress reservation I was happy to introduce myself to our guests and share what my title is, what is represents, and what my role is. I got to share some of our arts and crafts and history with visiting students and guests.  I...