4/5/2013: Treatment Side Effects left me weak and unsteady
April 5, 2013
by Dr. Lita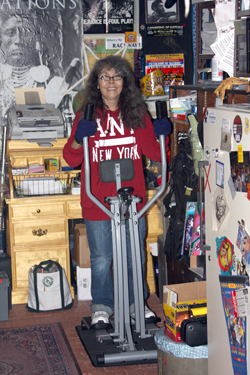 I am feeling much better now and looking forward to the 2013 Gathering of Nations Pow Wow. For so many reasons, this past December was perhaps the toughest days of my life since the transplant. The side effects from the treatment were so severe I was not sure I was going to survive, but with the quality of my medical team and the rock solid support of my family, I pulled through it. The ordeal left me very weak and unsteady. My weight dropped to 99 pounds but my recovery was rapid. It was Derek and Melonie who refused to give up on me. They forced me to get out of bed and off the couch to begin exercise. In the beginning it was like learning to walk again, as my energy levels were so low. Derek was persistent about diet and a bottle of Ensure a day. By the end of December 2012 I was strong enough to begin our morning walks again and the use of strength building equipment.
The past five years for me, Derek and Melonie have been extremely trying. With all of my health issues, we have somehow been able to step up and produce the Gathering.
Derek and Melonie, and all of the many people praying for me have given me the strength to pull through all of this. They have given me the very desire to live!
But it is the Gathering that gives all three if us the strength and motivation to keep going. So many people have told me that I am a strong woman. But the reality of my strength comes from the support and encouragement from so many people. To that I am so grateful!
It was 5 years ago just before the start of the 2008 Gathering of Nations Pow Wow, that I got very ill. It was then that my medical journey to recovery began.
I was scared, as my life was not doing well. I did not know If I would even live to see the Gathering that year. Working out when the doctor released me to go to the pow wow, I knew that my healing had begun. I was headed to the Gathering where the songs and the people would provide a spiritual uplifting to what seemed so grim.
And again this past December became another test of my desire to live.
With that I look forward to the Gathering coming and how much it means to so many people.
As I recovered the excitement of the Gathering began to grow. I thought about the people whom I would be able to see once again and also those who have, passed on in the past year and will not be there. Our powwow family has lost a lot of great people over the past year. I lost a good friend…my friend Rosie, whom I met at the Mayo clinic in 2010, as we both received liver transplants just days apart, past away during the days of my December illness. So I dedicate this years pow wow to her memory as we shared something so dear to us.
On the brighter side I just want to see all the people and hear the drums. What a healing for me…What a good feeling it will be for every one.
This will be my last blog entry for a while. However if something comes up or a turn in my health that I want to share, I will offer a new entry.
To all of you, Thank You Very much for your support and prayers. I ask you to keep me in your hearts and prayers, as my journey is not yet full filled.
Please come to Albuquerque for the Gathering if You can.
There's a magic about the Gathering!