Ticket e-Gift Card Holders
  November 2021 UPDATE:
If you are holding an e-Gift Card Voucher from the 2020 Gathering of Nations Powwow.  You will redeem the credits to purchase admission to the 2022 Gathering of Nations Powwow in Albuquerque, NM.
On October 15th e-Gift Card Voucher holders will receive an email notice to purchase their tickets (VIP and/or General Admission) before tickets go on sale to the public from October 15-November 14.  This special invitation is a pre-sale just for e-gift card holders before event ticketing opens to the general public November 15th. After November 14th, e-gift cards may still be used at check out in the regular online ticketing.  *E-gift Cards can ONLY be used for repurchasing tickets Online, cannot be brought to the ticket window to redeem for purchases.
Thank you again for your continued patience and understanding as we transition through the pandemic.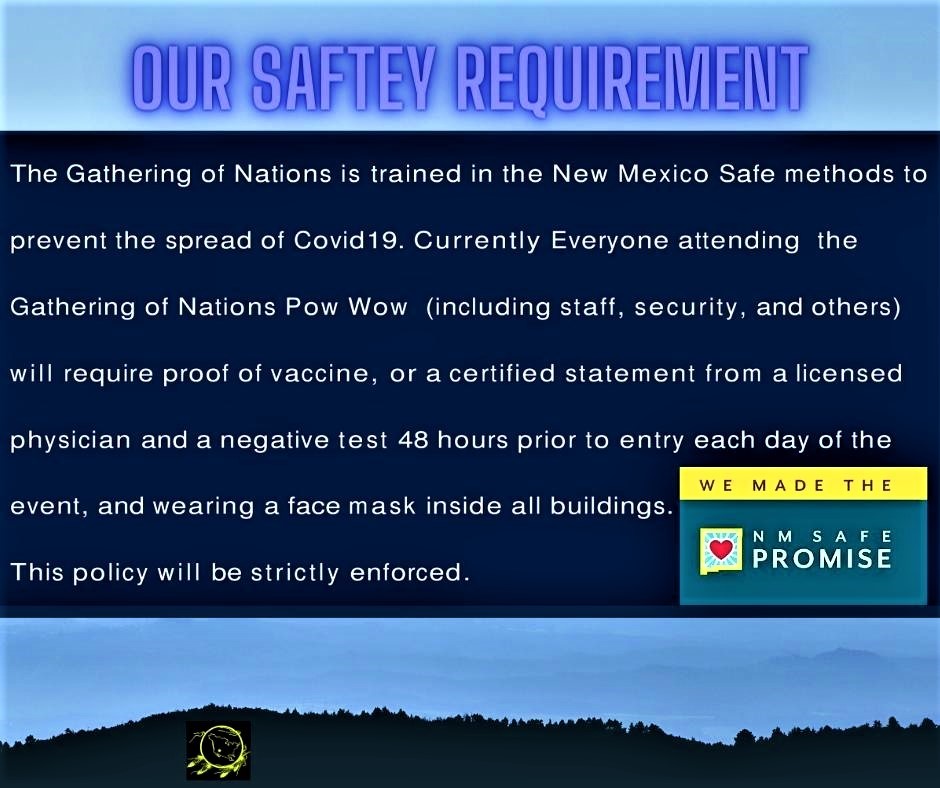 GON Powwow Covid Safe Policy (Fall 2021)
(*Updates made as information changes)
Despite the decline in covid cases and out of an abundance of caution, RIGHT NOW, the Gathering of Nations Powwow will require all staff, attendees, vendors, performers, and participants to show proof of full Covid-19 vaccination upon arrival at the Gate.  
IF YOU ARE FULLY VACCINATED, YOU WILL ONLY NEED TO SHOW YOUR VACCINE CARD, you will not need a Covid19 test.
Only exemptions are for children under the age to receive a vaccination (in April 2022) or proof/LETTER from a medical Doctor that you are unable to be vaccinated, however you will have to show proof of a negative Covid-19 test (Home tests are NOT acceptable) taken within 48 hours prior to attending any events.  Proof must be a PRINTED copy of a vaccination record or the card itself (*with official insignias) and/or Medical Letter from Licensed Doctor/Physician along with a PRINTED copy of negative Covid-19 test with date and timestamp.  ID will be required to ensure vaccine record and/or test are yours.  There will be individuals who are knowledgeable in reading the proof of vaccination information, as this was also done at Expo NM this past September for the NM State Fair.  Should this status change, updates will be posted on the Gathering of Nations Powwow website.  The Gathering of Nations Powwow wants everyone attending to be safe.  Also, until otherwise noted, masks are still required to be worn inside any buildings in New Mexico, masks are not required in the outdoor/outside areas unless unable to social distance (food court, Stage 49 and any of the outdoor seating areas).